A very engrossing story
A very engrossing story about a man who makes enormous sacrifices just to lead a normal life without hardship and hunger. Set in the 1800s in England and colonial Australia, the hero Martin Maynard is a strong character that readers will empathise with and rally to support.

As a teenager, the educated and hard-working Martin makes a brave decision to seek a new life in the convict settlements of Australia to escape an impoverished life in England which offers no future. His plan to win passage to Australia is to be transported as a convict.

Thus begins many years of hard work, resilience and much good luck. Working for years as an indentured convict and finally winning his freedom, Martin impresses all by his loyalty, hard work, talents and goodness. He finally earns a life which he could only dreamed of in mother England.

The author has skilfully created a character who enlists the reader's interest from the beginning of the novel and through its many decades to its end. While following Martin's life, the reader is also engrossed in the way of life of early Australia and how it was the lucky country for many from its first days of settlement.

A very enjoyable read and I look forward to more of the author's work.
Escape to Van Diemen's Land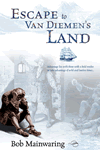 Martin Maynard is born into an English country family in the "hungry twenties" of the 1800's, a period of depression, unrest and hopelessness.Fortunate to have a secure life because of his father's position as bailiff of t... Read more about "Escape to Van Diemen's Land"