People often ask me to explain how the mind of a genius works
Tony Nolan OAM JP
People often ask me to explain how the mind of a genius works. I explain that is seeing connections that others don't, a good memory recall, and a wide ranging interest in knowledge. The final piece is the ability to put everything together in a way that solves problems, and makes the people think. When I opened and started to read Australia 2050, my first impression was that it is the soul of a genius living in a book.
Australia 2050: An Examination of Australia's Condition, Outlook, and Options for the First Half of the 21st Century is produced by Australia's Centre for Strategic Analysis, an activity undertaken by Future Directions International Pty Ltd, and published by Sid Harta publishers in Melbourne.
Even with just a casual glance through the pages, the books presents itself as will written, accurately academically referenced, and current sourced publication, in a highly readable font, well spaced and contains legible diagrams and tables. The book is close to 350 pages and is amazingly priced at $39.95.
The chapters and appendixes include;
Australia's Strategic Context, Challenges And Goals.
The Australian Economic Environment.
Australia's Population Trend.
Australia's National Security And Intelligence. Requirements In A Transforming Global Environment.
Governance
Australia's Infrastructure And Industrial Capacity
Strengthening Australian Identity
Options For Australia
Appendices.
Agriculture production: Implications for Australia's Population Strategy
Energy, resources reserves, and options, within the context of emerging technology, population change and the global economy
Industrial sustainability and job creation at strategic levels
The long term health of the Nation: Population, Numbers, Productivity, and health priorities
Australia's maritime environment: the southern ocean, Antarctica, maritime resources and long term strategic depth
Responding to a changing natural environment
But now with the pleasantries out of the way, let me tell you what is so exciting about this book. The book is designed to create debate, offer suggestions, and inspires the minds of today to think and plan for our future. This is a powerful publication of a total picture of Australia based in history and projected forward within a local and global context. You can almost feel that this a history book from the future which fell back in time, it ignites and drives you to reflect forward on the current state of interplays between Australians and their interactions with both the environment and the global village.
Of special note is the section on Australia's National Security And Intelligence. Requirements In A Transforming Global Environment. This area of the book is of most interest to our membership, and it is a compressive analysis of the challenges we face today. What is most interesting is the books ability to create linkages to other parts of the books, with the other considerations of our age and discipline. It makes you realise the complexities and dynamic connections between National Security and the infrastructure of Australian society, government and the business community. This book makes you think.
In closing, I would like to suggest that if you get the opportunity, find a copy of this book, read it, and prepare yourself for the debate that this book is sure to start.
Australia 2050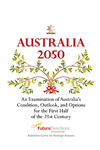 An examination of Australia's condition, outlook and option's for the first half of the 21st century. Read more about "Australia 2050"