Unputdownable
Wendy O'Hanlon
This is one of those ?unputdownable? novels that etches into your mind and you just have to keep reading, keep guarding the heroine?s life until the final words are ingested.
The book?s main character, Jade Green, is an amazing woman and this is an incredible tale, great writing, great characters, and an amazing number of twists and turns.
Jade Green is born in Shanghai but sent off to boarding school in England as a teenager after her parents are estranged. Her life, although immensely financially secure, is tainted by heartbreak and loneliness. She is an intelligent woman, strong, cunning and adept at business.
Due to many circumstances, Jade establishes a high-class brothel to look after the many street girls she has befriended in London. She also marries and becomes involved in government espionage work. She is jailed for a murder she did not commit and, upon release, is determined to live her life peacefully in the English countryside. This is not to be, and soon some of the locals realise that this charming old lady with a penchant for rose gardens, has a big past which is fast catching up with her.
A great read ? and you only get to fully understand the title of the book ? Watching ? on the final page. Brilliant!

Watching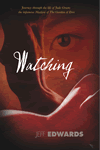 How does a young woman of wealthy parents and high birth become the owner of one of the most famous bordellos in London? Read more about "Watching"