A little literary gem
Michael Pert, Author of 'The Kissing House'
Col Foley has produced a little literary gem with Cut Off, and a worthwhile contribution to war fiction more broadly, but particularly about the Vietnam conflict. This is a period extensively covered by non-fiction writers but less so in fictional accounts and accordingly this book is a welcome addition.
That said, the narrative style shares some of the characteristics of a non-fiction account, and is reminiscent of many military memoirs. In keeping with this it has a strong biographical feel which will broaden its appeal to a wider readership. The precise military detail and its historical framing are coupled with a very readable but fast-moving account structured around a plot with much to both entertain and educate.
The plot too is unique; there are even fewer books with a narrative that is inclusive of US and Australian forces involvement in the Vietnam conflict at the working unit and soldier level, and this is one of them. The characters are endearing and the language used is raw, earthy and robust, but at the same time humorous and evocative. It certainly reflects the period accurately and this aspect will prove nostalgic to older readers but could be eye-opening for younger ones!
If you are keen to know something about the US and Australian soldiers involved in the Vietnam War, do it in the context of an exciting fictional account and read Cut Off. You'll be glad you did.
Cut Off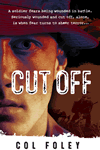 How did a runt from an impoverished U.S. farm family come to be a sensitive, but highly-trained, killer? Read more about "Cut Off"