Droplip … what is Droplip?
Mike LeFevre, Lighting Designer & Director, PBS Vision Ltd
Droplip … what is Droplip? A Pommy reaction to Australian slang. Written from experience and observing whilst sliding down the razorblade of life, exploring those moments of extreme clarity that shake you to the very core. With humorous down under style, Robyn has created the definitive Haynes Droplip manual, packed with wisdom and wise counsel amidst the beach and occasional beauty, that is the human condition. I salute you.
Droplip: Take it or Leave It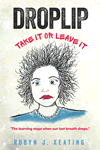 Abook full of little pet loathes loves and funnies of the many different hiccups in life the everyday person may be challenged. From A-Z it can be said there's something in it for everybody. Whoever is reading this booklet, will be looking for som... Read more about "Droplip: Take it or Leave It"