'The Serpent Rising' by Mary Garden
Robert Priddy
A real life spiritual thriller! Such a frank and wholly engaging account of such a remarkable 'spiritual journey' to India has seldom been written. This can be said with confidence because it is shatteringly frank. It takes 'seekers of the spiritual' on a vicarious tour of the mystique of yogis, gurus, swamis and their kind, without personally having to go through the accompanying betrayals and horrors that happened to Mary Garden and which so often occur. The extraordinary psychic and paranormal experiences, which are almost invariably also a baited hook, were also had by Mary Garden in plenty. For me this account represents a broad and experientially-founded rebuttal of much of what the vast New Age literature builds up in groping for spiritual solutions to living and following fraudulent gurus, and not least the search for transcendental experiences of any kind at all costs. The dangers she encountered were great and her survival of them and the intense physical and mental-emotional sufferings involved shows how the human spirit can recover from the direst of abuses.
Mary Garden's marathon through seven years of inner and outer heaven and hell began after arriving in India in the early 1970s at the ashram of the self-declared 'avatar' or Incarnate God of all Gods, Sai Baba of Puttaparthi in South India. The experience of staying in the ashram after having entered into an inner spiritual bond with this self-proclaimed avatar are recorded with great accuracy, a fact to which I can attest because my wife and I experienced or observed all the described kind of events there 12 years later, so little of real import had evidently changed. The teaching for self-brainwashing was already firmly in place and at that time the sinister aspects of a dangerous cult were already present, later to become known only when sexual abuses and cold-blooded murders were impossible to suppress successfully. Mary Garden eventually realised the fraud involved when she was told frankly about Sai Baba's homosexual abuse of young men in the name of God by an American lady who lived and worked in Bangalore and who was not under the delusions shared by all Sai followers.
This episode, bad enough in itself, was as nothing compared to what was to come. .. from the frying pan into the actual fire, with another 'pure yogi' with undoubted powers of an extraordinary nature who turned out to be a seducer of women and many a worse quality. That it was anything like an 'ordinary trip' would be a huge understatement… but the reading of the book itself alone can convey what is to be learned from it. Meanwhile, throughout the long agon, the anachronistic time capsule that is India becomes almost sensually present, like virtual reality… but one where unearthliness mixed with the direct social reality rules so much of the lives of its inhabitants.

Robert Priddy, retired researcher and lecturer in philosophy and sociology at the University of Oslo. Former member and national leader of the Sathya Sai Organisation in Norway.
The Serpent Rising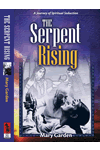 The Serpent Rising is a journey of spiritual seduction is based on my experiences in India during the 70's. It is essentially a memoir. Read more about "The Serpent Rising"