A sure-fire winner in the genre!
Wayne (Tex) Pelling
If, like me, you have "been there and done that" then this offering By Col Foley is "unputdownable"! If, on the other hand you haven't, but simply enjoy a good "war-y" or action/ adventure yarn, you will certainly not be disappointed!
The development of the Orville Payne character from unappreciated younger child and bullied loner through his military training and experiences as a true warrior is handled deftly and so believably.
The training regimes and later battle scenes are totally absorbing and are extremely realistic.
His contact with Aussie "larrikinism" and eventual posting to an Aussie unit combines humour and reality in equal measure. Underlying is a realistic and poignant reminder that the Vietnam conflict saw so many conscripts from both the US and Australia called upon to do remarkable things so far beyond expectations.
A sure-fire winner in the genre!
Cut Off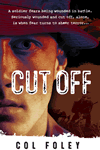 How did a runt from an impoverished U.S. farm family come to be a sensitive, but highly-trained, killer? Read more about "Cut Off"