Pick of the week.
John Morrow
Galaxy Trotters opens with 14 year old Nikki sitting on the school bus on her way to school. As usual, Peter, her 13 year old brother, is managing to get himself in trouble, both with Gazza, their much maligned bus driver and the two resident bus bullies, Ted and Kane.
Nikki loves her brother but she hates the way he always manages to get himself into scrapes. Just as she was ready to give Peter another telling off, she sees two flying objects across the horizon. One is red while the other is gold and Nikki curses herself for not being fast enough with her digital camera.
Puzzling over this miraculous sighting all day, she goes to bed that night wondering if her imagination had been playing tricks on her. Nikki was an imaginative student who particularly loved her science class.
Next day at school, while inside the ultra modern science cube block, their teacher, Miss Prana begins lessons for the day. They were currently studying blackholes and wormholes in the universe and Nikki?s imagination soon began taking her on a ride inside the mysterious flying objects she was now sure she had seen the day before. It was not long before Scott, a boy in Nikki?s class, piped up and showed Miss Prana actual photographs of the UFOs Nikki has seen. Nikki backed him up, while Miss Prana thought it could be a hoax.
A short time later at home, while Nikki and Peter are researching their science project, a loud noise crashes above their house. At first they think it must have been a tree crashing, but as the dogs keep barking, they both went out to investigate.
What they saw amazed them. One of the shiny bright objects that Nikki had seen had crashed into their back yard. On closer inspection, it turned out to be a shiny pig with wings each one metre wide, only one of them was broken. The flying pig introduces herself as Sowelu, a girl pig, whose galaxy hopper was shot down by laser beams from Dr Proctor, a scientist in the area.
So begins Nikki and Peter?s adventures into the unknown galaxy and a close association with Sowelu.
This is a quirky story, full of adventure and thrills. Based in a fictional town called Yarrambat, it is bound to appeal to younger teenagers with lots of imagination. ?A small community is invaded by a flying pig and two teenagers begin a fantasmagorical adventure into galaxies unknown.?
Galaxy Trotters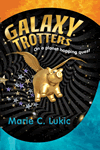 ?Hey! What is that thing?!? asked Nikki with a gasp, for right there inside their galaxy hopper, an enormous hole had opened. Read more about "Galaxy Trotters"