Ron Ward has skillfully blended suspense
Kate Smith, Queensland, B. Soc. Sci. Dip. Ed. Admin.,
Ron Ward has skillfully blended suspense, engineering, leadership, interpersonal skills with a captivating view of the future in "A Beginning In Ammonia", a must read for a person entering the engineering profession. "A Beginning In Ammonia" presents many, if not all, of the twists and turns of the engineering profession at a large corporation. "A Beginning" will be a "familiar" read for career engineering professionals…"I have been there!!!" George Anastas, PE, California.
Comments on A Shutdown in Ammonia In this, the 4th. in the 'Ammonia' Series, the team at the Empire Chemicals Ammonia Factory, Muddy River Bay on the off world Colony Planet, Cheap, having weathered their initial relocation; the early planning stages; the commissioning and start up of the plant. They are now facing that most crucial of stages in the life of any chemical [or otherwise] processing plant ? 'The Shutdown'. The shenanigans at the Head Office of Empire Chemicals on Home World at Director level continue unabated complete with interdepartmental spying and 'Chinese Whisper' campaigns as part of the norm.
A Conflict in Ammonia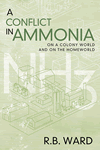 Setting up the factory at Muddy River Bay was exciting for the project team. But as time passes the excitement fades, and now, some five years later, the factory management team's job has stabilised, days follow days, and weeks and months follow ... Read more about "A Conflict in Ammonia"